Welcome to The Cleaners!  We, the proprietors,  Robert Feild, Patrick Feild, and Whit Soper thank you for visiting our site.  To our existing customers, we thank you for your continued patronage.  To our new and potential customers, we are eager to know you better.
We all grew up in the Jackson area and have lived in Madison for more than a decade.  We fondly call Madison our home.  For the last twenty-five years we have owned and operated The Cleaners in Madison.  Our family grew upon the opening another operation in Rankin County and with our newest Madison location at Colony Crossing west of the interstate.  The original store is located on Main Street behind The existing Courthouse.  Many years ago, that building housed Jitney Jungle grocery store.  Our customers stopped by Main Street after grocery shopping, lunch out, or a trip around town for errands.  Madison has sure has evolved since 1988, but we are a mainstay and have even grown stronger.
We take immense pride in our vision to create a positive experience for our customers.  We are the largest dry cleaning business in Madison. Our customer base is strong and growing.  This fact can clearly be attributed to our inviting service and careful cleaning of your clothing.  Take a look at our Services page for a comprehensive list of our offerings.
Our staff averages 13 years experience with our business.  Prior to their tenure with us, most had previous experience in their field.  Our philosophy is simple and classic; to provide the customer with a quality product, on time and with friendly, courteous service. All of our 3 locations implement this philosophy.
If you are new to Madison, we sure hope that you will give us a try.  We would love to personally meet you and introduce you to our staff.  If you have any questions or concerns, we are happy to help.  See you soon at The Cleaners!
Sincerely,
Robert Feild
Patrick Feild
Whit Soper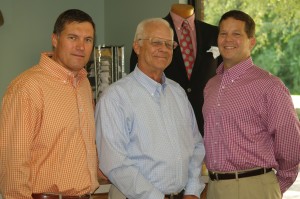 Whit, Robert, Patrick